I'm setting out to divine my own recipes for cocktail bitters, so the first logical step was to start with a standard, traditional recipe before branching out to make my own magical concoctions.
I have plans for a batch of smoked lemon bitters, and maybe some barrel aged banana bitters for tropical tiki drinks, so to ensure that I understand the process and proportions, I started by making a batch of Regan's Orange Bitters.  Here's a pictorial procedural of the month-long process, with a recipe adapted from Ardent Spirits.
Regan's Orange Bitters (Recipe No. 5)
Day 1: Place 8 ounces dried orange peel, 1 teaspoon cardamom seeds, 1/2 teaspoon caraway seeds, 1 teaspoon coriander seeds, 1 teaspoon quassia chips, 1/2 teaspoon powdered cinchona bark, 1/4 teaspoon gentian, 2 cups grain alcohol and 1/2 cup water into a half-gallon mason jar, push the ingredients down so that they are covered by the alcohol and water.  Seal the jar.
Days 2-14: Shake the jar vigorously once daily.
Day 15: Strain alcohol from dry ingredients through a cheesecloth and squeeze to extract as much alcohol as possible. Store the alcohol in a clean mason jar and seal tightly. Muddle in a mortar and pestle until the seeds are broken. Place dry ingredients in a saucepan and cover with 3 1/2 cups water. Bring to a boil over a medium-high heat, cover, turn down heat and simmer for 10 minutes. Allow to cool, still covered (about 1 hour). Place dry ingredients and water into the original mason jar that contained the alcohol and seal.
Days 15-21:Â  Shake the jar vigorously once daily.
Day 22: Strain the water from the dry ingredients through a cheesecloth.  Discard the dry ingredients and add the water to the alcohol. Put 1 cup granulated sugar into a small, non-stick saucepan and place over a medium-high heat.  Stir constantly until the sugar becomes liquid and turns dark brown.  Remove from heat and allow to cool for two minutes. Pour the sugar into the alcohol/water mixture.  At this point the sugar may solidify, but will quickly dissolve.
Days 22- 28: Allow the mixture to stand seven days.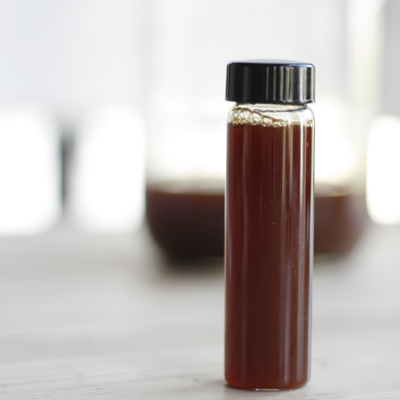 Day 29: Pour off the non-cloudy liquid, leaving any sediment resting on the bottom. Measure the bitters (there should be about 12 fluid ounces), add ½  that amount of  water, and shake thoroughly. Pour the finished bitters into a bitters bottle.