Continuing with my Vice Cream endeavor, I made a homemade fro-yo in the tangy Pinkberry-style, flavored with Campari, the bitter Italian apéritif, and fresh squeezed blood orange juice to get great color, and a flavor that starts off sweet and ends on a clean, lightly bitter note.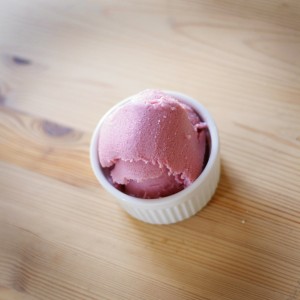 Campari Frozen Yogurt
1 24-ounce tub of Greek yogurt
juice of 6 medium blood oranges (or 1 cup Aliseo blood orange juice), strained
1 cup Campari
1/2 cup sugar
Simmer juice and Campari over medium heat until reduced by half.  Turn off the heat and stir in sugar until dissolved into syrup.  Combine syrup and yogurt in bowl, and follow the instructions on your ice cream maker for proper freezing.