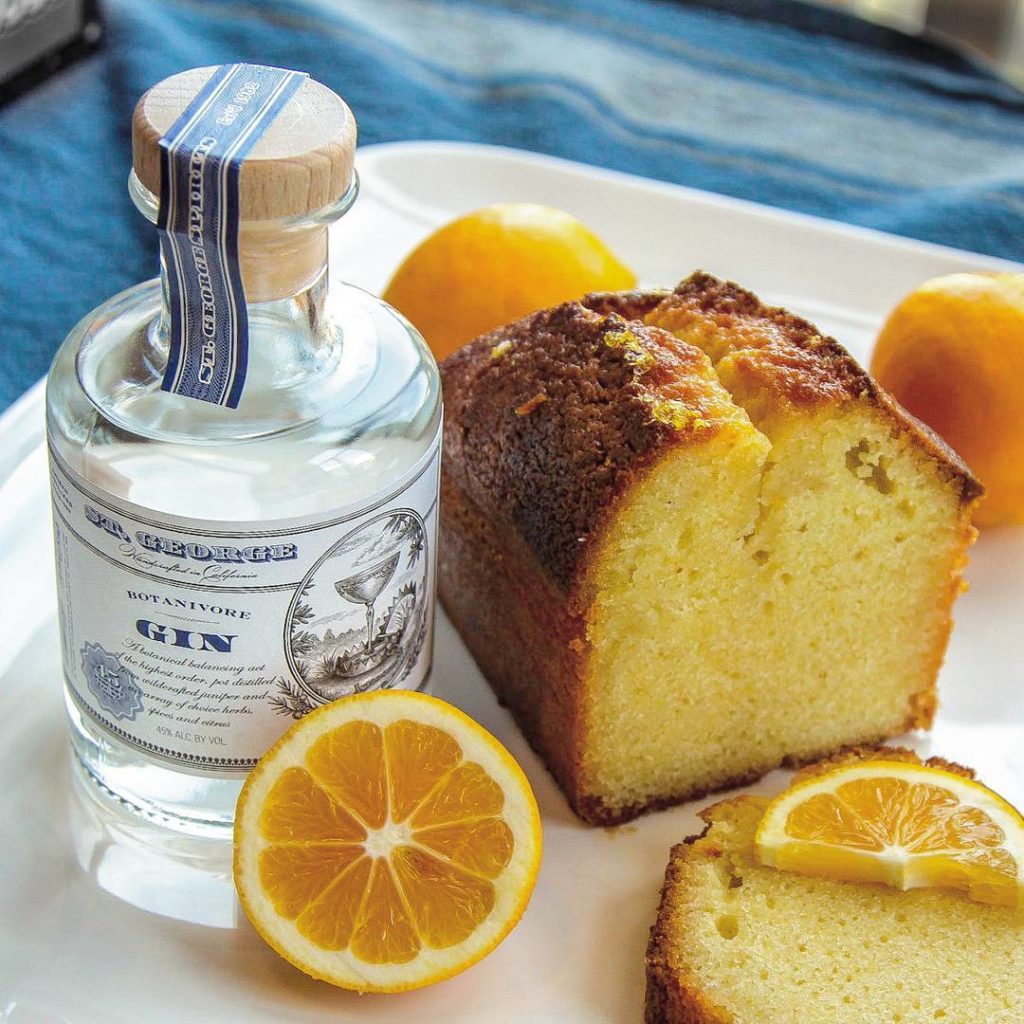 The complexity of a cocktail doesn't always translate well into food, but I've found a reliable medium in the form of classic pound cake. As summer is winding down and there is a ton of fresh fruit at the market, I have been breaking these out more often. It's simple even if you're not a baker. You make a pound cake, poke it full of holes and soak it in a syrup you make by simmering cocktail ingredients and sugar. If you're feeling ambitious, you can slice and layer the cake with fresh fruit and whipped cream, but it's great on its own during brunch or at a picnic.
The first iteration was a Tom Collins Cake (pictured), soaked in a syrup of fresh meyer lemon juice, sugar and St. George Spirits Botanivore gin. I did this as a baking project with the kiddo, so we left the gin out of his and called it lemonade cake. Neither version disappointed.
I've included syrup recipes for the Tom Collins, Jungle Bird, Sidecar and Blood & Sand, but there are an infinite number of permutations and you can't screw up too badly because when you substitute your own creation for one of the syrups below, taste your syrup and spend the baking time balancing the sweet, tart and spirit flavors.
Cocktail Cake
3 sticks butter, plus more for pan
3 cups sugar
5 eggs
3 cups all-purpose flour, plus more for pan
1/2 teaspoon salt
1/2 teaspoon baking powder
1 cup milk
1 teaspoon vanilla extract
Preheat oven to 350 degrees. Combine syrup ingredients in a small sauce pan. Bring to a simmer and reduce heat to low. Remove from heat after 8-10 minutes.
With a mixer, cream butter, then add sugar a little at a time. Add eggs one at a time, beating after adding each. Stir dry ingredients together in a bowl and add to mixer a little at a time alternating with a splash of milk. Add vanilla. Pour into a greased and floured loaf pan and bake for 1 to 1 1/2 hours, until a toothpick inserted in the center of the cake comes out clean.
When just cool enough to handle, remove the cake from the pan and poke several deep holes from all sides with a wooden skewer. Pour half the syrup into the pan and gently replace the cake. Pour remaining syrup over the cake and let it sit for an hour or more to soak up all the syrup. If pouring all of the syrup over would overflow the pan, pour as much as will fit and continue adding syrup as the cake absorbs it.
Tom Collins Syrup
1/2 cup sugar
1/2 cup water
1/2 cup St. George Botanivore
Juice and zest of 3 meyer lemons
Jungle Bird Syrup
1/4 cup sugar (brown sugar works well too)
1/2 cup water
1⁄2 cup dark rum
1⁄4 cup Campari
1⁄2 cup pineapple juice
Juice and zest of 2 limes
Sidecar Syrup
1/3 cup sugar
1/2 cup water
1/2 cup Cognac
1/4 cup Cointreau
Juice and zest of 3 lemons
Blood & Sand Syrup
1/4 cup sugar
1/4 cup water
1/3 cup Scotch
1/3 cup Cherry Heering
1/3 cup sweet vermouth
1/3 cup fresh-squeezed orange juice