Problem: too much Beaujolais at family Thanksgiving last year, and too few cocktails.
Solution: homemade cranberry bitters to craft some festive holiday drinks.
The holiday season – and the stress that comes with it – are nearly upon us, so most of the instructions in this recipe involve hitting ingredients with a hammer or jabbing them with a sharp stick. After that you just wait, shake, and blend.
Cranberry Bitters
Ingredients:
1 cup Everclear 151
1 12-ounce bag (3 cups) of  fresh cranberries
1 star anise, struck twice with a framing hammer
1 teaspoon fennel seeds, hit with hammer if desired
1 tablespoon fresh lemongrass, also smashed to a pulp by hammer (retain rest of stalk for stabbing)
1-inch piece of ginger, peeled and hammered
1 cup rye (I recommend Jim Beam rye)
1 teaspoon gentian root
1 teaspoon quassia chips
1 cinnamon stick
1 tablespoon vanilla extract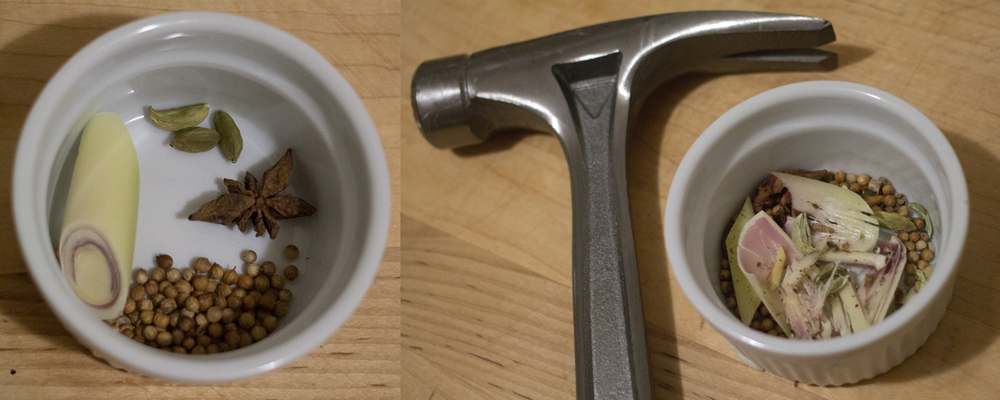 Procedure:
1. Start by making three separate infusions. Macerate for 12 days, agitating daily, tasting occasionally.
Bottle 1 – Fruity: 1/2 cup Everclear and the cranberries (jab with the leftover  lemongrass stalk until broken enough to be mostly submerged, and your urges to jab loved ones in the eye have subsided)
Bottle 2 – Spicy: 1/2 cup Everclear, anise, fennel, ginger and lemongrass
Bottle 3 – Bitter: the rye, gentian, and quasia
2. After 12 days, fit a coffee filter into a funnel and filter the Spicy and Bitter bottles into the Fruity bottle.
3. Add the cinnamon and vanilla.
4. Seal, agitate and let sit another 12 days.
5. On the 24th day, discard the cinnamon stick, and pour off the liquid through a coffee filter into a clean container.
6. Pulse the fruit  in a blender or food processor and press out the liquid through a fine mesh sieve into the filter.
Bottled bitters will last indefinitely, particularly if you keep them sealed in a cool, dark place.