Ice Cream Bar (815 Cole St. at Frederick), a throwback to the 1930's soda fountain/ice cream parlor is just about to open in Cole Valley, and while the ice cream sundaes deserve their own write-up, the soda program from Texas/Rickhouse barman Russell Davis is mind-boggling.
Everything on the menu is reconstructed from century-old recipes. More than a dozen flavored syrups are made with fresh produce and without cooking to preserve the crisp flavors and silky smoothness, and they offer two dozen house-made extracts and over 75 house-made tinctures to be incorporated into a custom frappe, float, milkshake, malt, crush, phosphate, lactart, egg cream or soda. There is no other place creating these drinks in this way, but I expect the success of Ice Cream Bar will launch retro lunch counters and convince cocktail bars all over the country to start in-house soda programs in the very near future.
The amount of effort that goes into every drink is remarkable.  They whip cream in a shaker, and what's more, milkshakes are made not with ice cream, but by shaking raw eggs and cream with hand carved blocks of ice!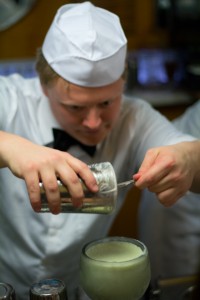 They don't have a liquor license (although a beer and wine license is pending), but if one were to perhaps, theoretically sneak a flask into ICB, the possibilities would defy the imagination. Having just tasted the entire menu, I recommend the following hypothetical boozey enhancements:
Peche No. 3 (cherry and anise frappe) – St. George Absinthe
Too Good to be True (butterscotch malted) –  Pappy Van Winkle 15 year (keeping in the spirit of the name)
House Built Tonic – Plymouth Gin (it's a no-brainer)

My Girlfriend's Girlfriend (roasted pineapple and pink peppercorn lactart) – Malibu (and I feel no shame)
Russel's Sassafras Root Beer – (going out on a limb here) Smith and Cross Rum
Breakfast Soda (orange thyme crush) – Siete Leguas Blanco Tequila
For Bobby Long (chocolate hellfire phosphate) – Del Maguey Mezcal Vida
Touch of Grey (creamed candy capped mushroom phosphate) – Remy Martin Cognac 1738 Accord Royale(because mushroom soda is already so absurd)