I've been so busy developing new gizmos that I haven't been posting much lately, so here's a peak at my most recent project. Along with new decanters, including a set with quotes about the spirits they contain, and some DIY cocktail kits with etched bottles, I've been working more with wood.
Along with creating woodcut stamps to make fun packaging, I stumbled onto a great new concept. I'm turning rigid sheets of plywood into "koozies" that fit paper coffee cups and pint glasses of beer, to protect your delicate fingers from extreme temperatures. Still testing design and resiliency, but so far results are  impressive. If you're in SF and want to be an alpha tester, take me out for a cup of coffee and I'll give you a free cuff.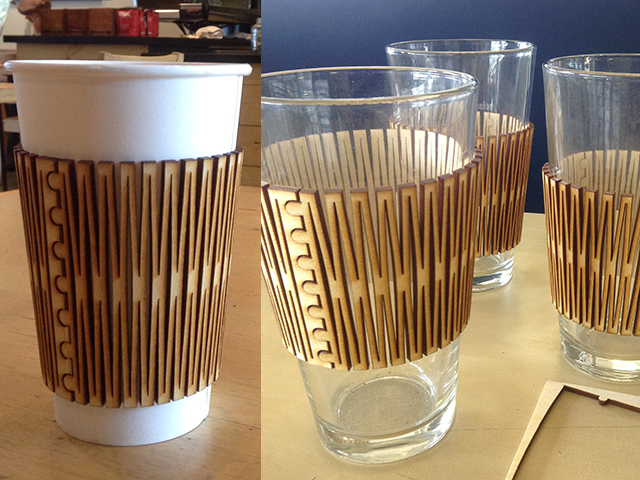 Note: Kerf-bending or "kerfing" is using the space created by a saw blade (called the kerf) or in this case, a laser, to create flexibility in an otherwise stiff material. The 1/4-inch plywood I am using for this project is remarkably inflexible, and yet once I've sliced it up, I can roll the whole thing up like it's made of paper.