There was another great Nirvino cocktail crawl last week, this time across the questionably fictional "Mint Slope" neighborhood of San Francisco, which is what someone has started calling that stretch of upper Market St. that isn't quite the Castro. We had a diverse array of Svedka vodka cocktails at four very different venues, which I have done my best to summarize in the space below.
Blackbird is an innovative craft cocktail purveyor where they produce a wide array of well-structured drinks with the occasional twist on the classics.  They were also one of the first in SF to make barrel-aged cocktails, and I'd say their citrusy competition drink showed the most maturity of the four. It was a little sweet for my taste, but no more than most vodka drinks.
Pilsner Inn isn't really a cocktail spot at all, and the cloying, cherry vodka concoction made me think of the super-sweet drinks popular in the 80's like a harvey wallbanger or sex on the beach, but it's a fun spot with a big back patio and a couple of vintage pinball machines.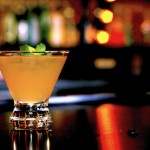 Rebel, the newest incarnation of the Triple Crown space is still a bit of an enigma.  Before ten o'clock, you can get order a solid cocktail and excellent barbecue from Sneaky's, working out of the Rebel kitchen, but after ten it turns into a sea of man-meat grinding and riding the five reinforced stripper poles, and the closest you can get to a cocktail (you might have been expecting a dirty joke here, but I'm not crossing that line) is ordering a shot and a beer and calling it a boilermaker.
Orbit Room served as home base for the event, and served the most innovative cocktail of the night, with a frozen block of pomegranate juice floating in the drink, which melted ever-so-slowly, changing the character of the cocktail from sip to sip.
Orbit Room and Svedka also hosted a martini making seminar with Nick Varacalli from the bar at Michael Minna who guided us through the controversial history of the Martini cocktail and then took us behind the bar to make our very best martinis.  My favorite piece of trivia he shared: the martini glass was introduced at a French arts expo, during American prohibition, at the heart of the Art-Deco period.