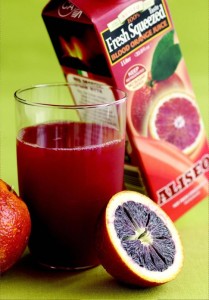 I went looking for new and interesting mixers at the Fancy Food Show in San Francisco this week, and my favorite was surprisingly simple.  Aliseo makes a boxed blood orange juice that tastes exactly like fresh-squeezed, which is nice, because blood oranges aren't always easy to find depending on your location and time of year.
It's not a shocker that one of my favorite drinks is a Blood and Sand, which is only made better with blood orange juice.
Blood and Sand and Blood
¾ ounce blended Scotch whisky
¾ ounce Cherry Heering
¾ ounce Carpano Antica vermouth
¾ ounce Aliseo blood orange juice
Shake all ingredients with ice and strain into a chilled cocktail glass. Garnish with an orange peel.