San Francisco Chronicle cocktail columnist Gaz Regan says the face bartenders make when they shake your drink is the same face they make during orgasm.  If you've dated any of our SF bartenders, or others from around the country, you might recognize the mugs at ShakerFaces.com.  My friends at Lush Life teamed up with Combier to document as many shaker faces as they could across the nation.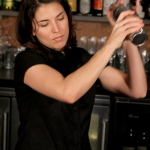 Note:  I was at the shoot with Jackie Patterson, probably the cutest bartender in the world, and this shot doesn't at all capture the adorable grin she had while shaking.  You catch a glimmer of it in the video, but I demand the footage from the other take.  I think she was smiling more the 2nd time.
For each bartender, there is a photo of their "Shaker Face," a video of them shaking and discussing their style, and a quasi-scientific, illustrated break-down of their technique.  Check it out!