I have fondest memories of drinking Sturm at  Raschhofer Rossbräu, a bar/restaurant I frequented while living in Austria a decade ago, give or take a month.  It's an effervescent,  not fully fermented red wine, which is cloudy and available only in the autumn.  Federweisser is the general term for this category of quick-fermented grape juice, but it is known by many names throughout Europe, and it isn't produced in the US, at least not to my knowledge.
Now, a California-based group of German ex-pats has started selling a kit of  six "Spike" packets and an airlock (to keep the bottle from exploding), which convert the sugars in a 64-ounce bottle of juice into alcohol and carbon dioxide, giving you juice with a little effervescence and the kick of beer.  It's reasonably priced, and the airlock is reusable.  All you do is add a packet to the bottle of juice (your standard Ocean Spray or Welch's), replace the cap with an airlock and rubber stopper and let it sit out for a couple days. After 48 hours, you have a half gallon of juice with about 10% alcohol content.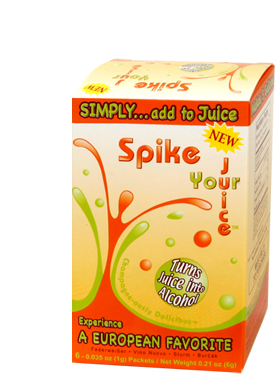 The guys at Spike Your Juice were kind enough to send me a sample, and it works exactly as advertised.  I opened a bottle of Ocean Spray White Cran-Peach, poured in a pixie stick-esque powder tube and plugged in the airlock, which I had filled with water.  A day later it was opaque and the airlock was gurgling out the occasional bubble.  The day after that, I was sipping on something akin to the jungle juice I remember drinking on nights in college of which I remember little else.
Note: with access to a brew supply shop or the Internet, one could, with a bit of experimentation, make a MacGuyvered spike kit.  Turbo Yeast is a versatile, fast-acting strain of yeast blended with nutrients that will ferment up to 20% alcohol over 48 hours, and a homebrew airlock and plug only cost a few bucks, but at less than $10 per kit from Spike Your Juice, it probably isn't worth the effort.  The kit provides 6 packets, which each convert 64 fluid ounces of juice (totaling 3 gallons, or just under 12 liters).  A six dollar packet of Turbo Yeast yields 20 liters, but you would have to go through all the effort of measuring and dividing .