The simplest way to divide your bourbons is by the secondary grain.
Bourbon has to be at least 51% corn, and most are around 70%.  The secondary grain is usually rye, but a handful of bourbon producers use wheat instead, yielding a less spicy, less floral, less sour bourbon.  Wheated bourbons, or "wheaters," have a softer and often nutty flavor.
Personally, my favorite bourbons are wheated, including the notoriously hard to find Pappy Van Winkle Family Reserve, and the best value bottle on the market, Old Fitzgerald 86 proof, which runs less than $10 a bottle.
To the best of my knowledge, this is a comprehensive list of wheated bourbons grouped by distillery.  If you know better, please post whatever I am missing in the comments!
Buffalo Trace Distillery
Maker's Mark
Heaven Hill
A. Smith Bowman Distillery
To my knowledge, Bernheim Original Wheat Whiskey is the only "straight wheat whiskey" (at least 51% wheat).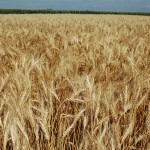 Photo by NDSU Ag Comm